On or around the first of every month, I'll be looking back on my blog operations for the previous month.
It was at the end of June 2021 that I first thought of starting a tech blog, a so-called technology introduction blog, which was just a direct link to the manuals I had been creating personally.
Since the time I started this blog, I have actually had various goals and changes in my mind.
This is the monthly report for August 2021 on tamocolony, with the purpose of organizing my feelings.
Self Introduction
プロフィールにもずっと書いているが、現状ネットワークエンジニアとして働いているサラリーマンである。幸い土日が完全に休みだし残業もそこまでないということで、2年前に副業を開始している。
副業としては自分の知識を活かせるものがいいなと考えて、実際収益が発生しているものはWeb制作とWeb記事執筆だ。
Webライターとしては、平均して依頼を受ける記事執筆を大体月に10記事前後こなしている。
Currently challenging various projects on Twitter
2021/08/31まとめ

■100日間プログラミング学習
Day 65 / 100
UdemyのKotlin教材学習

■100日間毎日ブログ記事更新
Day 62 /100
1記事更新https://t.co/mNyQmXpoXM#100DaysOfCode#ブログ書け #Blog

— seitåmø / セイタモ (@tamocolony) August 31, 2021
100DaysOfCode Challenge
Currently, he wants to become a programmer from a network engineer, and is using Udemy to learn development.
This has made it a habit for him to always learn and tweet about development every day with #100DaysOfCode. Thanks to this challenge, he has gained dozens of overseas followers.
There is even a bot that detects this hashtag and automatically retweets it, so there is never a lack of response to this hashtag. We are planning to continue using this hashtag for learning purposes.
Post a blog every day for 100 days
If I'm going to start a blog, I need to do a lot of blogging first, so I decided to take on this challenge.
If you want to become a blogger and sign up for a server, get a domain name, and install WordPress, the number of rivals will decrease considerably if you don't write more than 30 articles.
Daily updates are not only valued in terms of SEO, but they also increase your proficiency in article writing because you repeat the same thing every day.
PV number/profit of tamocolony(English) in August
This blog was launched on August 5, 2021.
I've been working on it steadily, and the current total PV number is 324.
By the way, I haven't been reviewed by Google Adsense yet.
I'm not too concerned about the numbers, I'm just going to keep working on the numbers.
8月に反響があった記事
I started this article in English because I thought that the country of origin does not matter when it comes to technology, but it is getting a good response.
The following are some of the articles that have received the most response.
What to do when pop-ups keep appearing when using a Mac in a proxy environment
What kind of environment do you use your Mac in? If you are using th...
【A NEW PRODUCT】 Google Drive for PC announced. Users who use backup and synchronization should prepare for migration.
Google Drive is an online storage service that I personally us...
How to switch between Japanese and English in UltraVNC using the "half-width/full-width" key
UltraVNC is a software that allows you to remotely control PCs in th...
【2week Review】Is the REALFORCE for Mac really a good keyboard?
It's easy to get swamped in the keyboard world. I've heard that the ...
How to clean up the display on a Macbook when connected to a Dell U2410 via HDMI.
When outputting to an external display on a Mac, there are often cas...
Future goals
My goal for the time being is to try to maintain the style of my main job, side job, and blogger for a while.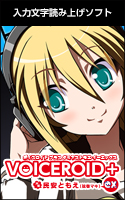 VOICEROID+ Tomoe Minoyasu EX Download Version
I am Japanese, and my computer is set up in Japanese. So there may be some differences in the names of the buttons and windows.
I try to keep the information on this site (tamocolony) up-to-date, but please be aware that the information on this site may not be the most up-to-date, or the information itself may be incorrect. We take no responsibility for the content of this site. If you have any questions about an article or need to make corrections, please contact us via the Contact Us page.