When you send and receive e-mails, you may find that the attached file is called "winmail.dat".
This may be a PDF file or an Office file, but it is caused by some kind of error. In this article, we will show you how to deal with such cases.
Operation Procedure
Download the attachment called "winmail.dat".
Go to "http://winmaildat.net/.
Click the [Select File] button and select the "winmail.dat" file that you just downloaded.
Click on the "Convert winmail.dat" button, and the file will be converted to a normal file and start downloading.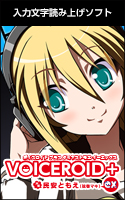 VOICEROID+ Tomoe Minoyasu EX Download Version
I am Japanese, and my computer is set up in Japanese. So there may be some differences in the names of the buttons and windows.
I try to keep the information on this site (tamocolony) up-to-date, but please be aware that the information on this site may not be the most up-to-date, or the information itself may be incorrect. We take no responsibility for the content of this site. If you have any questions about an article or need to make corrections, please contact us via the Contact Us page.