These days, we are truly in the age of the cloud. Various services as well as online storage are running on the cloud. In such a situation, Microsoft has started to provide a new service using the cloud, and that is Windows365.
Microsoft365 is a subscription contract for Office, but what will Windows365 be a subscription contract for? This article will provide a basic overview of Windows365 and whether it can be used for personal use.
About Windows 365
Windows365, officially known as Windows 365 Cloud PC, is a cloud PC service that began full-scale service in August 2021.
At the time of writing (2021/08/04), the service is not for individuals, but for small and medium-sized businesses and large corporations.
Due to the recent new virus, the telework way of working has spread rapidly all over the world. By using Windows365 at such times, employees can access Windows in the cloud from any device and do their work.
Windows 365 will change the way we think about corporate PCs.
In the past, people were given a company computer and had to carry it with them to work, but now the company computer itself is in the cloud and can be accessed from any device.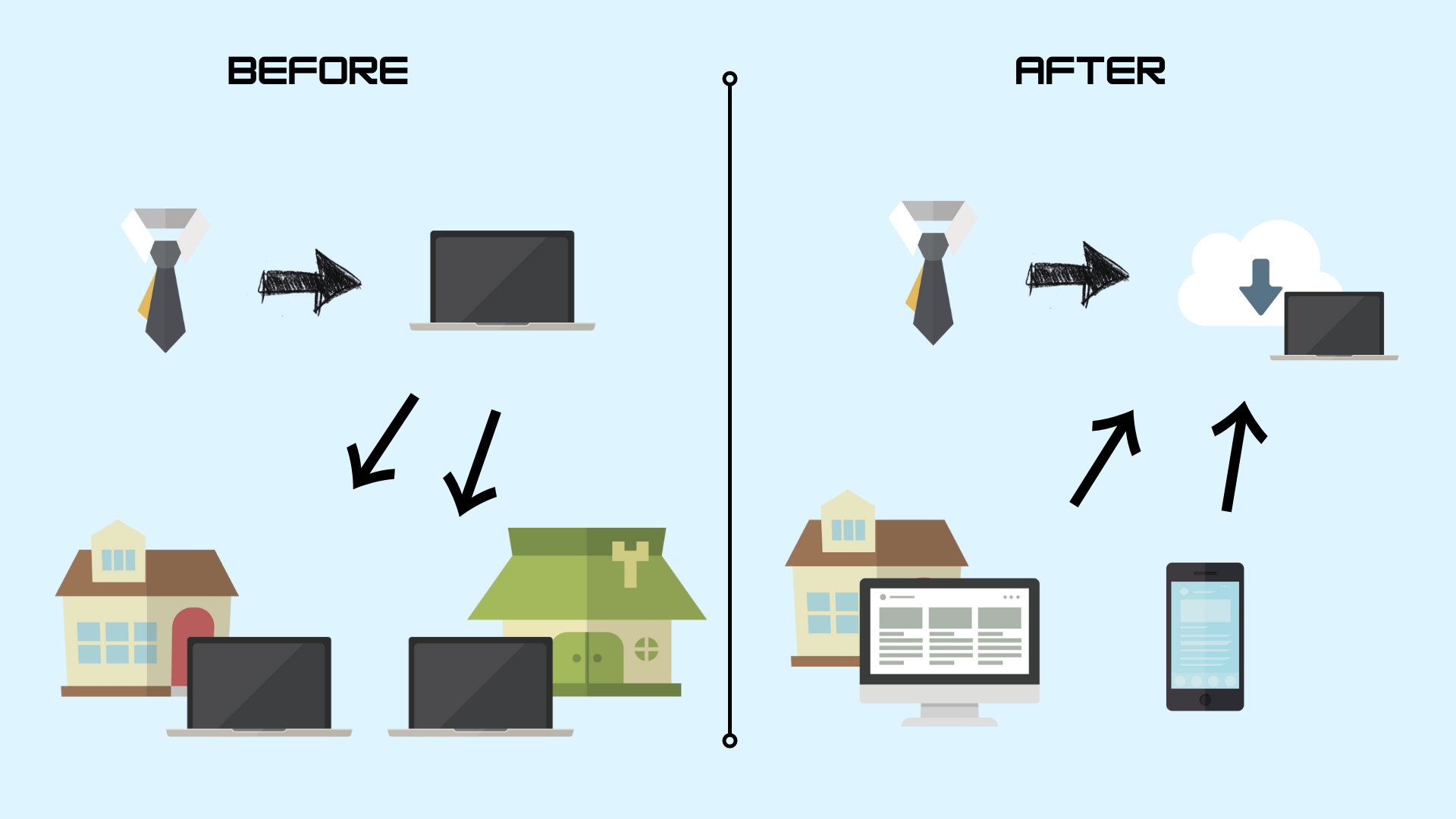 Specifically, it looks like this.
Before
Up until now, the company provided us with computers, and we each took them home to work on them.
After
From now on, if the company signs up for Windows 365, employees can access the cloud from any device they want and start working right away.
The benefits to the company of providing this service are huge. Of course, the company is probably using thin clients for company PCs, but by using Windows 365, the company is almost completely dependent on Microsoft for security risks such as information leaks.
What's the difference between Windows365 and Microsoft365?
Nowadays, Microsoft is always trying to add 365. They are all very useful services, but if the names are too similar, some people may not know which one is which.
So, please check out the article below for a summary of services with the name 365.
What's the difference? Windows365? Microsoft365? Office365?
Recently, Microsoft has been offering a lot of services that use the...
Windows365 usage fees
Windows365 is currently available in "Business" and "Enterprise" plans, and no announcement has been made as to whether or not it will be rolled out to individual users. It is positioned for so-called small and medium-sized businesses and for large businesses, but the prices differ depending on the configuration of CPU, memory, and storage.
CPU
Memory
Storage
Fee
1vCPU
2GB
64GB
3,260円 User/month
2vCPU
4GB
64GB
4,350円 User/month
128GB
4,760円 User/month
256GB
5,980円 User/month
8GB
128GB
6,120円 User/month
256GB
7,340円 User/month
4vCPU
16GB
128GB
9,510円 User/month
256GB
10,740円 User/month
512GB
14,270円 User/month
8vCPU
32GB
128GB
17,260円 User/month
256GB
18,480円 User/month
512GB
22,010円 User/month
Windows365 can be used in a browser.
What's great about Windows365 is that it is browser-based. Personally, this is what I like most about it. Users are almost never restricted to a device.
By logging in from the web browser of the device of your choice, you can use the same apps, tools, settings, and data from any device.
What's more, even if you switch between connected devices, the cloud status remains the same, so you can start working right where you left off.
I wrote an article on whether Windows can be used on M1 Macs, but I didn't expect it to be this easy to run Windows. Of course, you can run Windows 365 from the M1 Mac as well, since it is launched from a browser.
Is it true that M1 Macs can't use Windows? I investigated the truth of the rumor.
There are several ways to use Windows on a Mac, but are there any methods that can be used on the M1 Mac? There are several ways to use Windows on a Mac, but is there a method that can be used on an M1 Mac? The following article introduces the results of my research on this topic, so please check it out if you are interested.
When Windows 365 is available for individuals, it will be the easiest way to use Windows on a Mac.
Is it true that M1 Macs can't use Windows? I investigated the truth of the rumor.
I've been using a variety of computers with different operatin...
conclusion
I hope that Windows365 will soon be available for personal use, as I believe that the development cost will be lower than bringing the ARM version of Windows up to the same specifications as the x86-based version, and this service will make it even easier for Macs to use Windows.
On the other hand, I can't imagine Apple offering such a subscription deal.
I am Japanese, and my computer is set up in Japanese. So there may be some differences in the names of the buttons and windows.
I try to keep the information on this site (tamocolony) up-to-date, but please be aware that the information on this site may not be the most up-to-date, or the information itself may be incorrect. We take no responsibility for the content of this site. If you have any questions about an article or need to make corrections, please contact us via the Contact Us page.